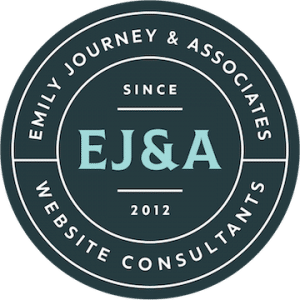 Have you been looking for a professional opportunity to grow your career, expand your knowledge and increase your influence on small businesses?
We are Emily Journey & Associates (EJ&A), a small team of savvy website consultants located in Upper Arlington, OH, and we're looking for the right people to join our dynamic team and support our growth.
EJ&A values a diverse workplace and strongly encourages women, people of color, LGBTQ individuals, and people with disabilities to apply. Applicants will not be discriminated against because of race, color, creed, sex, sexual orientation, gender identity or expression, age, religion, national origin, disability, ancestry, marital status, veteran status, medical condition or any protected category prohibited by local, state or federal laws.
What is it like to work with us?
Emily Journey & Associates (EJ&A) is a women led and operated company. It was founded in 2012 by Emily Journey and has grown into a team of 10 people.
EJ&A has long embraced a progressive work culture and we are a W2 employer.
We do:
all work part-time and produce full-time results
take days off for any reason and without fear or excuses
leave the office early if we're at a stopping point for the day or the week
have the option of working from our home offices
place a high value on distraction-free and organized work habits
value clear and timely communication between coworkers and with clients
attract clients who appreciate our work and are willing to pay a premium price for our services
require a high degree of ownership of our individual client accounts and projects
We do not:
provide retirement or 401k benefits
provide comprehensive health benefits
offer full-time employment
place a high value on multi-tasking
If you're the coworker we're looking for…
You are a positive, decisive team player who enjoys working with small business owners.
You are a self-motivated worker.
You support the success of others while helping businesses reach benchmarks and achieve their goals.
You have confidence, leadership and demonstrated success that encourages you to be proactive when problem solving.
You take ownership of your client list and projects, which is reflected in your thorough follow up on outstanding projects/tasks.
You only accept the best performance from yourself, and pro-active customer service is key to your success.
You are inspired, enthusiastic, motivated and above all – ready to learn, grow and push yourself to achieve more than you ever thought possible.
If this sounds like you, then please consider applying to join our team!
Openings
Marketing Manager (No openings)