If you are an Ohio employer with W2 employees, then you can apply for full reimbursement of your WordPress Training, SEO Training, and Social Media Training with Emily Journey & Associates. You can have as little as one employee (yourself!). Employers of all sizes and industries are encouraged to apply for the State of Ohio's technology training grant program: Ohio TechCred.
Use Ohio TechCred Program funds to help cover the cost of your training with Emily Journey & Associates. We offer 1-on-1 and small group courses that meet TechCred "Certificate" and "Certification" requirements. Not sure where to start? Our TechCred Coordinator is here to guide you through the State of Ohio's simple TechCred application process.
You're in the right place to learn more about this terrific professional development opportunity for yourself and your staff.
The next TechCred application period opens on September 1, 2023 and will close on September 29, 2023 at 3:00pm.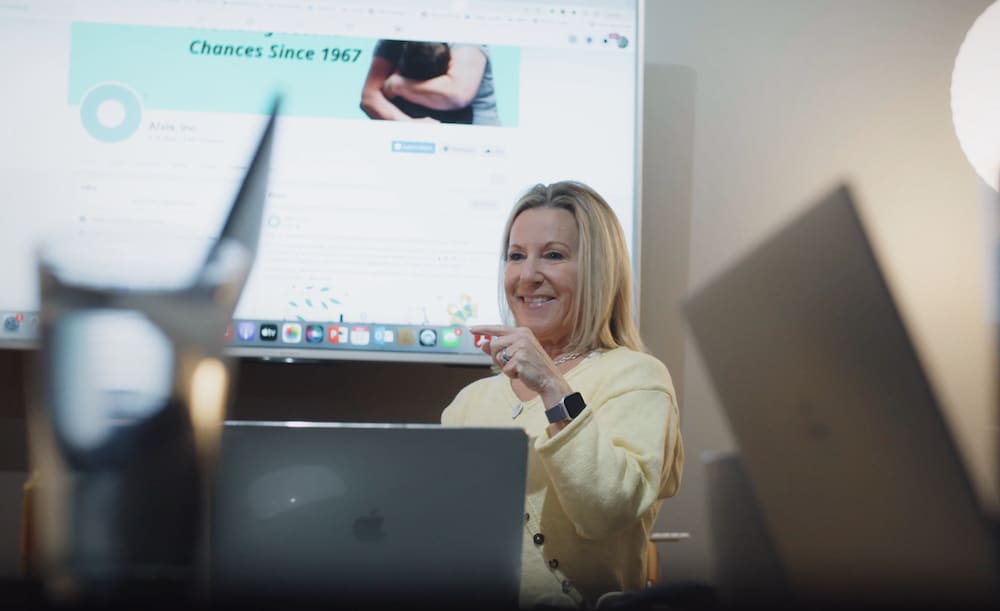 The Ohio TechCred program encourages employers to partner with an Ohio TechCred training provider that will most effectively meet their tech training needs.
Emily Journey & Associates is an approved training provider and offers the following certificate credentials for which you can apply for TechCred reimbursement:
WordPress
Web Development
Web Design Fundamentals
Web Design and Development
Web Design and SEO
Search Engine Optimization (SEO)
Social Media for Business
Contact Erin Brooks, TechCred Coordinator at 844-972-6224 or contact our TechCred Coordinator online.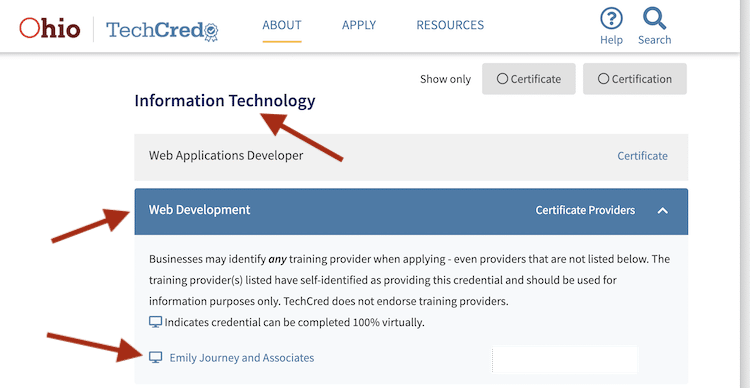 How TechCred Works
Here are the steps to request TechCred reimbursement for your training with Emily Journey & Associates:
Identify your employees that could benefit from technology training
Contact Erin Brooks, TechCred Coordinator at 844-972-6224 or contact our TechCred Coordinator online.
Apply for TechCred funding online
Enroll employees in one of our TechCred eligible training courses. Upon completion of training, each employee will receive a certificate credential.
Upload proof of certificate program completion to your TechCred account
Receive reimbursement from the TechCred program
What is TechCred?
---
---
Ohio's TechCred Program gives Ohio employers the chance to upskill their current and future employees in today's tech-infused economy. Employers who submit successful applications will be reimbursed up to $2,000 per credential when current or prospective employees complete eligible technology-focused credentials. Any Ohio registered employer that employs Ohio resident W-2 employees is eligible to apply.
Download Ohio's easy to read information about TechCred program guidelines here:
TechCred Program Guidelines 02.23.22
Or, read about TechCred at the state of Ohio website here:
https://techcred.ohio.gov/about/program-guidelines
Employers are not required to identify specific individuals on the application for funding but will be required to identify employees who earned the approved credentials when completing the reimbursement request.
To receive reimbursement, the employer must be able to verify that credential earners are Ohio residents with a verifiable Ohio address. Individuals must be W-2 employees at the time of the reimbursement request; independent contractors or 1099 employees are not eligible for this program.
What is a Credential?
"Credential" is an overarching term that includes both certificates and certifications.
Certificate: Earned by individuals who successfully complete a training, course, or series of courses.
Certification: Earned by individuals who pass a standardized assessment that recognizes an individual's knowledge, skill, or competency in a particular specialty.
What Makes a Credential Eligible for TechCred?
Employers applying for TechCred must select which credential their employee is pursuing. To be considered eligible, credentials must meet all three criteria. Eligibility requirements for credentials include:
They must be industry-recognized.
They must be technology-focused (as defined below).
They must be short-term. Credentials must be certificates or certifications able to be completed in less than 12 months or in programs that are fewer than 900 clock hours or thirty (30) credit hours.
Businesses may identify any training provider when applying. TechCred does not endorse training providers.
Emily Journey & Associates offers the following Information Technology certificate credentials for which you can apply for TechCred reimbursement:
Web Development (Website development using WordPress software)
Software Application Specialist (WordPress)
Digital Literacy and Applications  (WordPress, SEO, and Social Media Applications)
Search Engine Optimization Specialist
What is a Technology Credential?
---
---
Technology credentials demonstrate the competencies necessary to succeed in an occupation that utilizes technology to develop, build, and deliver products and services. Technology credentials rely on science, technology, engineering and/or math related education, as well as technical skills, to benefit an employer dependent on the development, deployment and investment in new and emerging technology, including software development, advanced manufacturing, data analytics, cybersecurity, computer hardware and design, military applications and other emerging fields.
Credentials on the approved list have been recommended by the Technology Review of Educational Credentials (TECHREC) panel of experts and approved by the Chancellor of the Ohio Department of Higher Education.
TechCred Case Study