---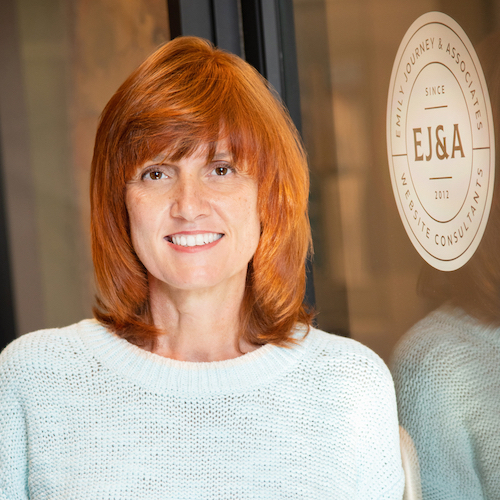 Hi, I'm Emily Journey. I am a WordPress Trainer and consultant for marketing teams, IT departments, business owners, and administrative staff. When you have knowledge, understanding and control over the WordPress platform, you can:
Increase profit margins
Make more sales
Decrease web development costs
Personally, I don't know any professional that would pass up those benefits. (Myself included!)
Getting here
When I started learning WordPress, I did it the way many of you have tried: without help.
Finally, after almost two years of persistent effort and building a few websites on barter, I had a solid handle on the platform.
I didn't stop there.
I hired a virtual coach in Denver to teach me Search Engine Optimization (SEO).
During our Zoom training sessions, I was impressed with how easily he communicated his knowledge and authority on the topic – he provided answers for questions I didn't even know to ask! That was my first experience with virtual learning and it was worth every penny.
Despite my initial hesitations about virtual training, I am thankful that I took the plunge. I know it can seem "not quite as good" as face-to-face learning. I wondered:
Could I really learn this way?
Would I get as much value from the training?
Thankfully, I didn't let my doubts get the best of me. That virtual training experience not only changed the way I did business – it changed my life.
I invested in WordPress and training for the same reason you're here today: independence. For me, I wanted the independence to transition from selling for other people to selling my own material.
For you, independence may mean something different. Maybe you want to:
Save money by not having to hire someone to do this for you.
Break free from a reliance on an unresponsive marketing agency.
Equip your marketing department to handle the website work in-house.
Handle this responsibility that's been handed to you by your boss.
My path to mastering WordPress led me down a road of trial and error, a bad experience with an affordable website designer, launching my own web design agency, and meeting all kinds of business owners.
Your journey may look a bit different, but I hope I can help you end up at a similar destination: independent mastery over this powerful platform.
Let's take a look at how we'll help you get there…
Read More About On-Site Team WordPress Training »