In today's digital age, having a website is essential for businesses of all sizes. A website is not only a digital representation of your brand but also serves as a gateway to connect with potential customers. When it comes to website design, there are two main options: custom website design or using pre-built templates. In this post, we'll explore the pros and cons of custom website design.
What do you have to consider when creating a website?
Before we speak about the particular advantages and disadvantages of creating a custom website design, let's talk about general points that you have to keep in mind. Here are some key considerations to remember when planning your website.
Purpose and goals
Before beginning the design process, it's important to identify the purpose of the website and the goals it should achieve. This will help guide the design process and ensure that the website is effective in meeting the needs of the business and its users. Undoubtedly, an e-commerce website will differ from the website of a company that provides specific services such as roof cleaning, for example.
Functionality
The website should be designed with the necessary functionality to achieve its goals. If you want to create an online store, for instance, this may include features such as a shopping cart, payment systems, contact forms, etc. Additionally, you'll need to decide whether you wish to use a content management system (CMS) or a platform such as WordPress or Shopify. Then, you should know how much a particular CMS allows you to extend functionality when needed.
For example, the screenshot below shows the Singletracks store built with Shopify. This is quite a tiny store with a limited number of products, as its aim is to support the brand and 'Share the mountain bike knowledge that inspires epic adventures.'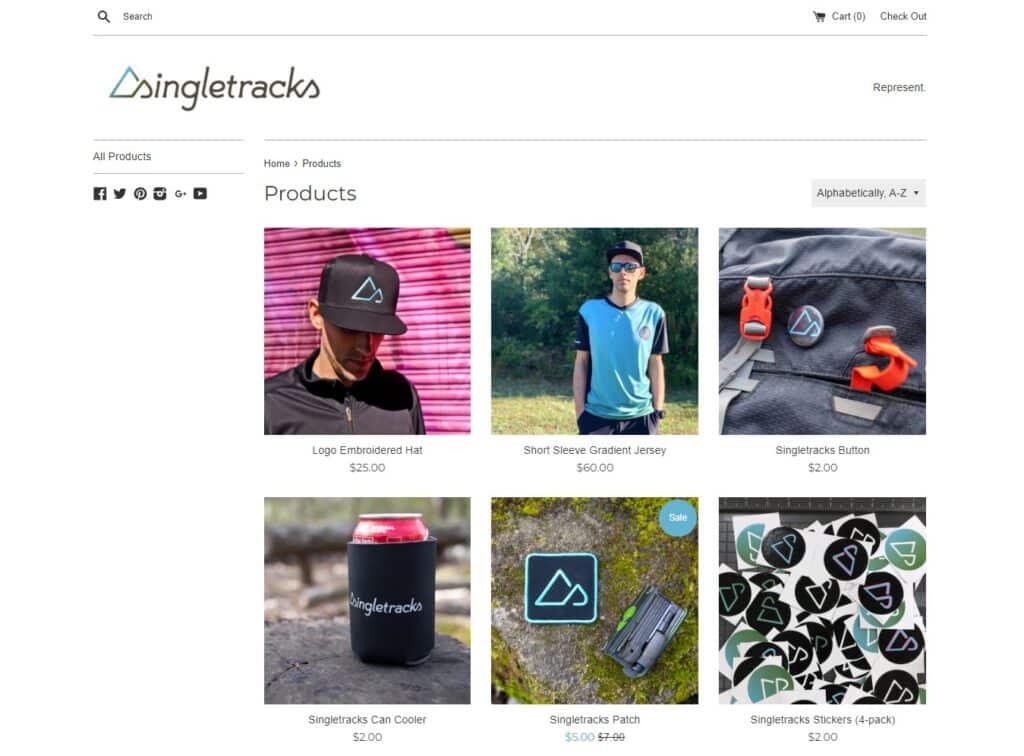 Web design and development expertise
It's essential to rely on skills and expertise with any web design and development project. Thus, in the initial stage, you have to decide whether you are going to create the website design yourself or hire a professional designer who can guide you in this process and think of all the required elements in advance. You can discuss the layout, colors, element sizes, navigation, etc. After that, a professional can create a website mockup and submit it for your revision.
Additionally, when your website design is ready (you usually get it in a Photoshop or Sketch file), you need an experienced person who can convert the design into coding. If you are not familiar with code creation, you can choose reliable Photoshop or Sketch to HTML services and transform your custom design into a live website that fully meets your expectations.
User experience
The user experience (UX) of a website is critical to its success. It's important to create a design that is easy to navigate and intuitive for users. For example, if you create a beauty store, you'll need to think carefully about product categories to organize products in the menu effectively. In this case, the store will also require breadcrumbs to let users reach necessary pages more easily. The design should also be responsive and optimized for various devices, including desktops, tablets, and mobile phones.
In the screenshot below, you can see the Spotify website. Its menu on the left is pretty simple. Also, when visitors hover a mouse, they can see a button and play a track. This makes the website intuitive and easy to understand.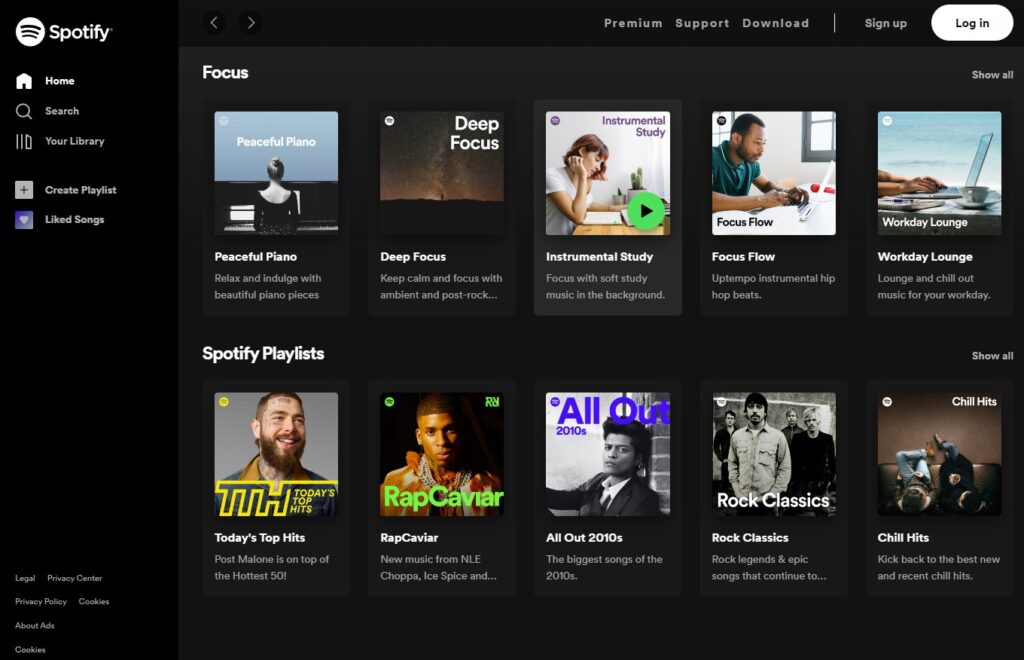 Branding
Branding is another important consideration in website design. Your website should accurately reflect the company's brand and values through the use of consistent colors, fonts, and imagery. If you are in doubt about whether to use a ready-made theme for a content management system or have a custom website created, consider whether the chosen ready-made theme has advanced customization options that will allow you to adjust all the required branding elements.
Content
The content on website pages should be carefully considered and planned out when creating a website design. Text blocks can look different depending on the size of the text you wish to add and the fonts that you choose. Consequently, while designing a website, it's important to consider what you need to tell your visitors and what the visual representation should be.
Furthermore, the design should allow for easy updates and changes to the content. As blogs are a powerful tool for attracting potential customers, you'll need to create informative posts on a consistent basis. For instance, if you have a store selling tableware or dinnerware, you can write posts about setting the table, dinnerware trends and styles, materials, holiday decorations, etc. The screenshot below illustrates a blog of the Year & Day shop selling tableware.
While planning your website design, you have to decide how recent or featured posts should be displayed, whether it's necessary to add animations for images or buttons, and how this will influence content perception, etc.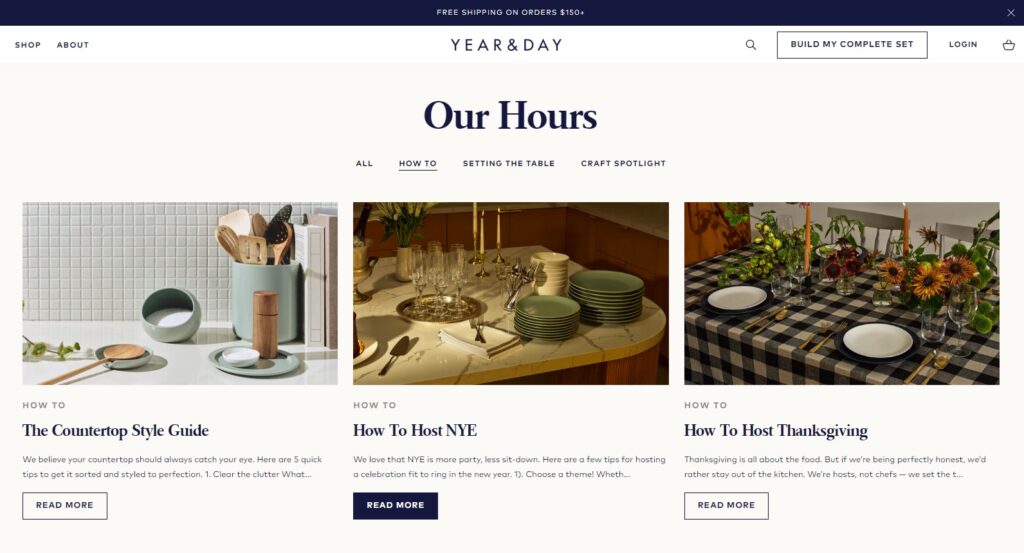 SEO
Search engine optimization (SEO) is important to ensure that the website ranks well in search engine results. The design should be optimized for SEO through the use of appropriate headings, reduced image sizes, and other elements. No matter what you choose (a custom website design or a ready-made theme), you'll face the necessity to create new pages and adjust them for search engines sooner or later. Thus, you need to know how to optimize your pages.
Maintenance
Finally, it's important to consider the ongoing maintenance of the website. Ideally, the design should be easy to maintain and update on your own. If you have a WordPress website, you may invest in training your employees and ensure they can solve at least basic issues fast. Alternatively, you can think of hiring a team that will help you maintain your website on a consistent basis.
Advantages of custom website design
In short, the biggest advantage of custom website design is that it is fully tailored to your requests. A professional web design and development team can work with you to understand your brand, target audience, business goals, requirements, future plans, and create a website that reflects your brand's unique identity. Consequently, custom website design allows you to stand out from the competition and make a lasting impression on visitors.
Now it's time to speak about specific advantages that you get with a custom website design.
Unique and tailored to your brand
Branding is the process of creating a unique identity for a company or product that differentiates it from competitors. In regard to custom website design, branding involves creating a visual and emotional representation of a company's values, personality, and products/services on its website.
When designing and developing a custom website, several branding elements are considered to ensure that the website accurately represents the company's brand.
Color Scheme
The color scheme of a website is important as it can evoke emotions and convey a brand's personality. The colors used on a website should correspond to the company's branding across all channels, and they should be carefully selected to convey the right tone and message. For instance, if your company deals with renewable energy, you are likely to choose green and blue colors for your website, but if you are building a cosmetics store, pastel colors will be more appropriate. You can see an example of such a website (Younique) in the screenshot below.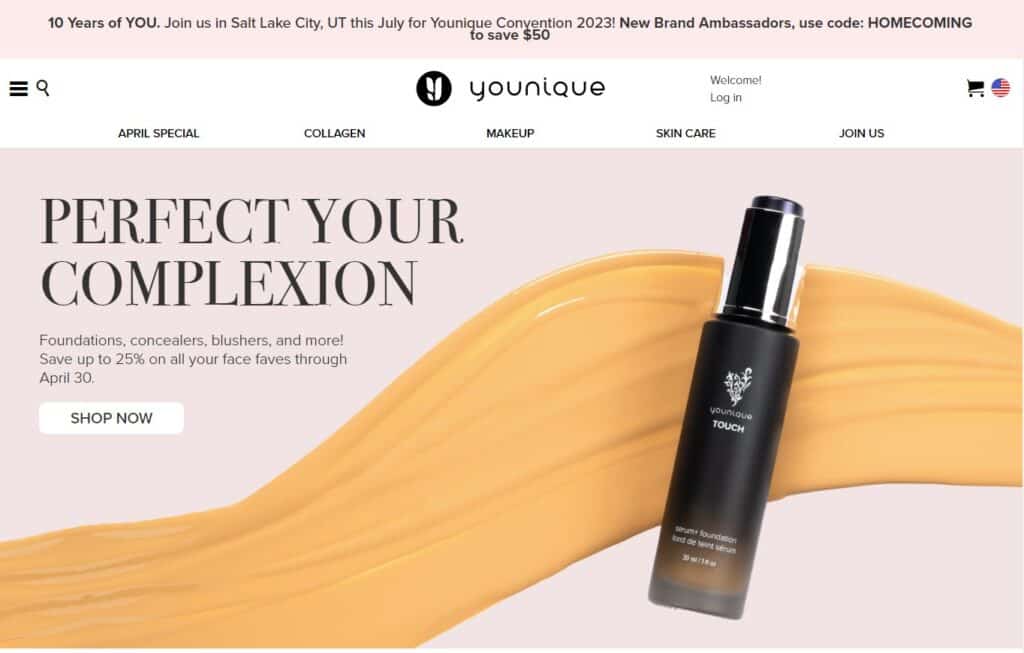 With a custom website design, you'll discuss all colors that should be used with a professional. Then, you can be sure that the use of colors will be consistent throughout the website. In case you don't know what colors should be matched for different website elements, an expert designer will be glad to assist you.
Experimenting with colors yourself, if you decide to personalize a ready-made theme instead of creating a custom website, may not always lead to the expected results.
Typography
The typography used on a website can also help establish a brand's personality and tone. Custom typography can be used to make a website memorable, while also ensuring consistency with the company's branding across all channels. When creating a custom design, a professional will follow the best practices to make website fonts match your brand style. Moreover, as with the color scheme, experienced designers and developers will ensure that the use of typography is consistent throughout the website.
Images and Graphics
The images and graphics used should help reinforce the message and tone of the website. The use of proper backgrounds, lines, and other graphic elements can make the website more visually appealing to visitors. A custom website design can include any elements that you can think of, and professionals will help you implement your ideas.
The Gusto website shown in the screenshot below is a good example of careful branding. You can see well-chosen fonts that make the message stand out, pleasant background colors, and attractive graphic elements.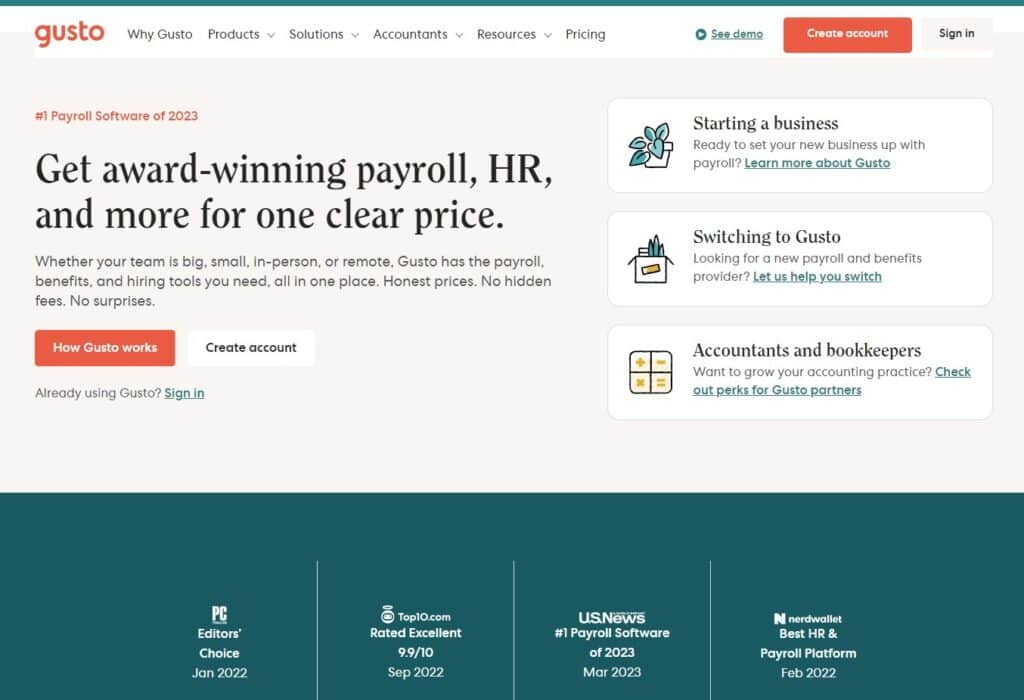 Improved user experience
A custom website design provides a better user experience as it is created with the user in mind. A professional team will ensure that the website is easy to navigate, has clear calls-to-action, and is optimized for search engines. This improves the overall user experience, which can lead to increased engagement and conversions.
Ready-made website templates are also created with specific niche requirements in mind. However, custom website design allows you to extend service pages, for instance, to better describe your process and outcomes. Likewise, custom website design lets you arrange pages and create a multilevel menu that will help visitors find the necessary information faster. It's especially important for e-commerce websites.
Advanced functionality
When creating a custom website, you are not limited to the functions that ready-made themes offer. It's up to you to think of your website's functionality and set the task for developers. An experienced team can create custom code that will provide you with the necessary functionality.
Flexibility and scalability
Custom website design offers greater flexibility and scalability than pre-built templates. A professional web development team can create a website that meets your current needs while also being scalable for future growth. You can discuss your plans with the web design and development team, and they will offer the best possible solutions keeping in mind your brand's potential growth. For instance, if you are starting a little craft shop selling knitted items, you may later expand the store and website categories by adding yarn, fabrics, and other supplies.
Disadvantages of custom website design
Although custom website design offers plenty of advantages, you should also consider its disadvantages. Let's discuss the major ones.
Higher cost
Custom website design is more expensive than using pre-built templates. This is because it requires a team of professional web developers to design and build the website from scratch. However, the higher cost is worth it if you want a website that is unique to your brand, tailored to your business goals, and provides you with all the necessary functions that may not be available in ready-made templates.
Longer development time
Custom website design takes longer to develop than using pre-built templates. This is because it involves a more extensive design and development process. Experts will have to evaluate your needs, create a design, get your approval, and transform it into coding. However, a longer development time is worthwhile if you need to ensure that everything looks perfect and works properly, as you expected.
Maintenance and updates
Custom website design requires ongoing maintenance and updates to keep it functioning optimally. This includes software updates, security updates, and content updates. Custom website design and development don't always include post-production maintenance. In this case, you have to make sure that your team can handle website maintenance or delegate this task to professionals.
Summing up: custom web design
In conclusion, when building a website, you should definitely know what it should look like and what functions it should perform. Then, you may either choose a pre-made website theme and customize it to your needs or have a custom website design.
A custom website built from scratch offers many advantages, including a unique and tailored design that fully reflects your brand style, improved user experience, and greater flexibility and scalability. However, it also comes with a higher cost, longer development time, and ongoing maintenance and updates.
When deciding between custom website design and using pre-built templates, it's important to consider your business goals, budget, and long-term needs.