Watch our video for a description of our Website Maintenance services ⬆️.
Aside from understanding how to use the WordPress dashboard and best practices for SEO, staying on top of website performance is a muscle you'll want to develop.
It may sound intimidating, but website maintenance can be done thoroughly and efficiently when you follow a website maintenance plan. A website maintenance plan usually has monthly tasks to safeguard against potential problems such as security vulnerabilities, broken links, and performance issues.
Your plan will include regular website maintenance tasks like software updates, backups, and testing.
The bottom line is this: website maintenance is not optional. It is required to ensure your website works for your customers and for your business
How do you maintain and improve a website efficiently?
How do you maintain a website on your own without spending gobs of time that you don't have? I have good news. Website maintenance doesn't have to be complicated and consume all of your time if you know what to focus on and how to do the things you need to do.
More good news? If you try to manage your website and still struggle, there's plenty of help available. Contact our friendly office at (844) 972-6224 or send us a message through our website maintenance inquiry form.
Let's look at my five top tips for website maintenance.
Website maintenance tip #1: Review website performance
It doesn't matter how great your product or service if your website is clunky and difficult to use. I like to think about it like maintaining your vehicle – checking the tire pressure, changing the oil, touching up scratches. You can let some of these things go for a while, but they will always catch up with you in the end.
Nobody wants to drive a clunker – just like nobody wants to visit a poorly performing website.
So, do these quick website performance tasks and fix any problems you may have:
Repair broken links
Update plugins and themes
Clear cache
Run a security check
Repair broken links
A broken link is a link to a website page that no longer exists.
The technical term is a "404 page."
The page may have been removed by the website owner, or the link itself may have a typo. In either case, this hurts SEO and user experience and you shouldn't have them on your website.
These broken links can be internal (linked to another page on your site) or external (linked to another website). When you click on the broken link, it goes to a 404 page – an error page or Page Not Found – or something similar. How do you know if you have broken links?
If you use an SEO tool like Ahrefs, you can perform a Site Audit.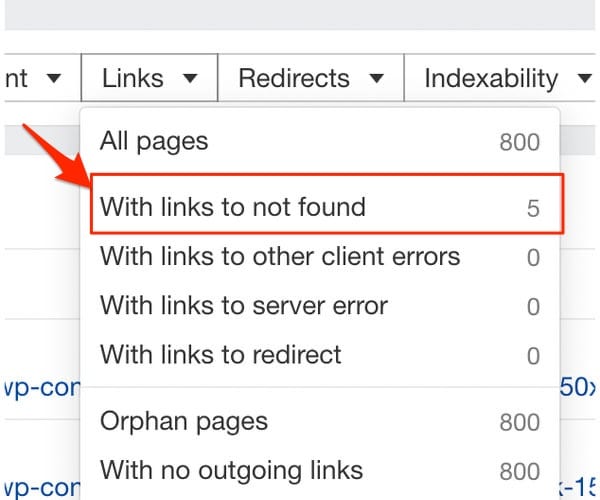 But, you don't need to be signed up for one of these services in order to discover your broken links. Instead, install a helpful WordPress plugin called Broken Link Checker. I use this plugin myself and I love it. Once installed, it will check for broken links. It shows up on your WordPress website's dashboard under Tools > Broken links.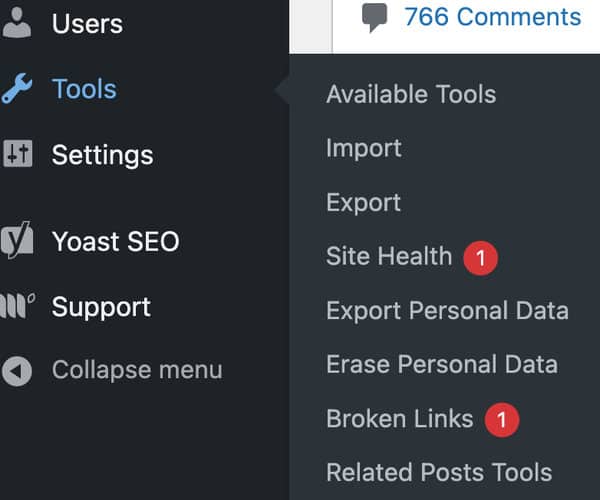 Update your plugins to keep your website secure
The next box on your website performance review checklist should read: take a look at your WordPress plugins and theme to see if they need an update.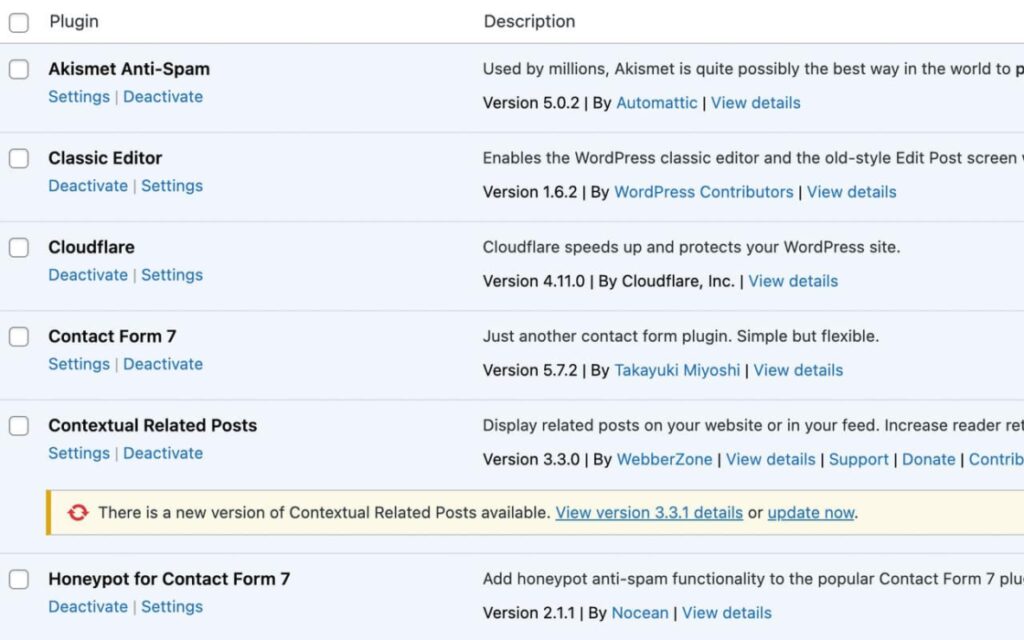 You'll see prompts that will let you know when a new version is available and updating is typically as simple as clicking a link. Easy, right?
I must warn you, though – occasionally, by updating your plugins, you risk creating problems or conflicts with other plugins on your website.
To mitigate this risk, first make sure you have a backup and restore plan for your website. Then, update each plugin individually. Check your website after each plugin update to make sure it still looks correct and operates as usual. This will take additional time, but trust me when I tell you that it's worth it.
Afraid you might break something? Chances are, you won't. But if performing website maintenance gives you stress, contact us at Emily Journey & Associates. We have some options for your website maintenance needs – including WordPress security updates.
Office: (844) 972-6224 Contact Us
Clean up your cache
Another way to improve your website performance is to clear your website cache when you make changes to your website.
WP Rocket is a WordPress plugin that handles caching for your website. All you do is click the "clear cache" button in the backend of your website, and you're done.
You can do this daily, weekly, or monthly, depending on how often you change your website.
Do a security check-up
The last – but certainly not least – performance review is making sure you run a security check on your website. Outside threats like hackers are a real issue for website owners, and you don't want to be a sitting duck with an easy website to hack.
When running a security check, look for these things:
Outdated software
Weak passwords
As mentioned above, ensure you have updated plugins and software. If you don't update, the software can contain vulnerabilities that hackers can exploit.
Next, check the strength of your passwords. I don't have to tell you that you should avoid using the same password for multiple accounts, which makes you really vulnerable. I recommend using a password manager like Keeper to generate and store secure passwords. No more passwords on Post It notes!
Website maintenance tip #2: Optimize your pages for SEO
Even if you have no clue how to "SEO your website," you can still optimize it for search engines. This is one of my top tips for website maintenance.
There are 3 things every website should have for SEO:
Interlinking between blog posts
Good title and heading tag structure
Use of analytics to measure results
These tips to improve your website maintenance can be done in one sitting – and the results will be long lasting.
Interlink between blog posts
The first thing to look at is your interlinking. When you link from one post to another post within your website, then it is an interlink or crosslink. When you do link between your posts, Google can crawl your website faster and easier since it can track your links from one post to another.
Here's an on-page SEO tactic to interlink: use natural language related to the seo keyword in the post you are linking to. Anchor text is the words in your blog post that link to another blog post when clicked – typically underlined and in a different color. You might call it a hyperlink.
Check your website pages and blog posts and interlink between your essential pages to increase dwell time (time spent on your site) and overall user experience.
Use a good title tag structure
Another vital website maintenance tip for SEO is to have a good title tag hierarchy on all your pages. Make it easy for Google – and your readers – to understand the organization of your page. You can do this by using H1, H2, H3, and H4 tags correctly throughout any given page on your website.
Use cases of title and heading tags:
H1: Used only once on any given page. Normally the title of the page or article is an H1 heading tag.
H2: Used multiple times throughout the page. Normally serves to divide up the content into sections of topics drawing from the H1
H3 and H4: Not required. But, when in use, these headings serve as sub-section headings directly related to their H2 section heading.
Use analytics tools
To see the progress of your website marketing efforts, enable Google Analytics. This is a free tool to track and measure metrics on your website.
Using it will help you understand user demographics, identify where your traffic is coming from, who is linking to your website, and much more.
I also really like Google Search Console. If you're spending time or money investing in SEO, this is the tool to help you understand if your efforts are paying off. With Google Search Console, you can see how your site is performing organically for all the keywords you are going after. More on it later in this article.
Doing some basic optimization on your own will take a little time up front but pay dividends for the long haul. And there isn't too much you can "break" when you implement these SEO principles.
If you've done the basics and are ready to take your website to the next level, work with us Emily Journey & Associates. We've helped companies grow their online presence since 2012.
Office: (844) 972-6224 Contact Us
Website maintenance tip #3: Improve user experience
Just like you, your customers are busy. Your website visitors don't have time to look all over trying to find the information they need to make a purchase. When this happens, you lose dwell time and increase bounce rate.
Your website should enable customers to find the info they need to make a quick and easy purchase. Or, if a potential customer is in the research phase, your website should invite visitors to hang around, look through your pages, read the information you provide, and eventually make a transaction.
You guessed it. Basic website maintenance is also necessary for creating a positive user experience. When looking over your website, answer these questions:
Is your website speed fast?
Have you tested the website functionality?
Have you checked your website on multiple devices and browsers?
Here are some additional website maintenance tips that will help you improve user experience.
Website speed
The attention span of people has drastically shrunk as TikTok and other short video content is becoming more popular.
People move on if what they're waiting for doesn't happen in seconds. And that goes for your website visitors. If it isn't loading quickly enough, half of visitors will leave your website. In fact, 53% of visitors to an e-commerce site expect pages to load in 3 seconds or less (digital.com survey).
Check your website speed by plugging your website address into Page Speed Insight.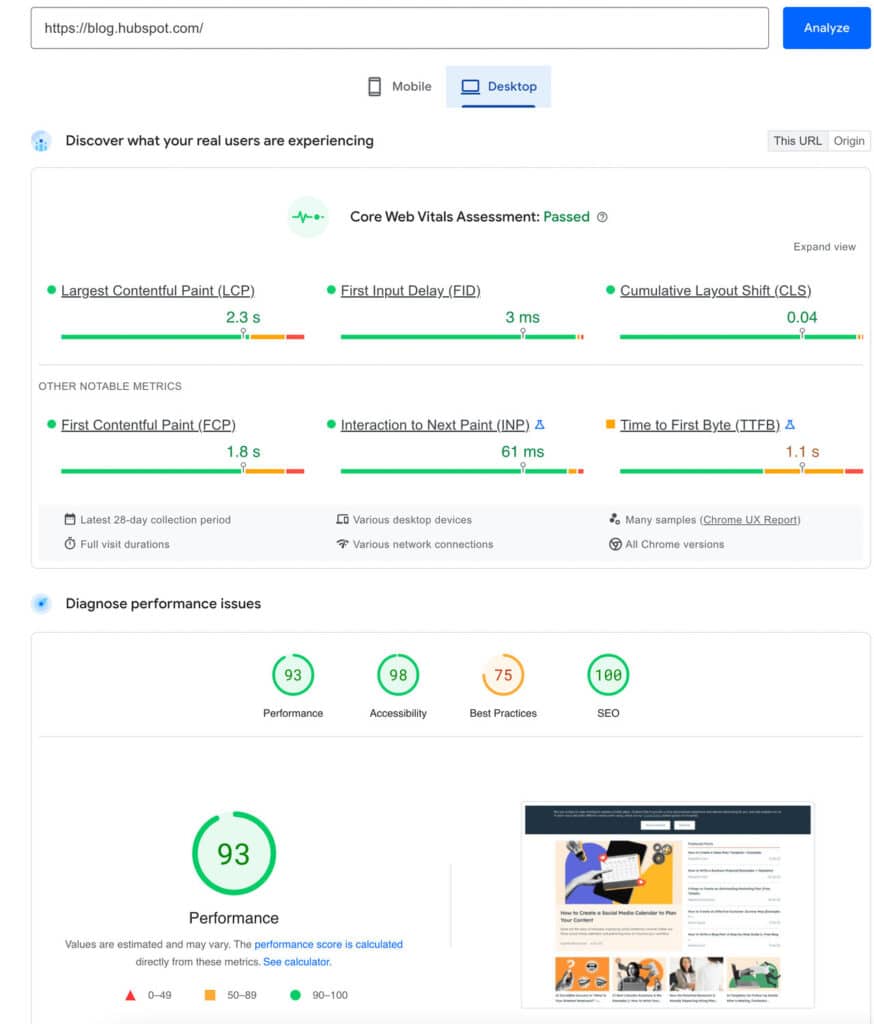 When you see your report, anything in yellow or red must be addressed. The page will also tell you the steps to resolve any issues.
Some examples of ways to improve your website speed include:
Optimize images by reducing their file size – you can use a tool like TinyJPG to compress images.
Use a content delivery network (CDN) to reduce the load time for users.
Make sure your web server sends your content in a compressed format (Gzip or Brotli) to reduce bandwidth.
Test the functionality of pages
Another key website maintenance tip to improve user experience is to test the functionality of your pages. The best way to do this? Act like your customer.
Go to your contact page and fill it out. Visit your checkout page and make a purchase. You can also check your forum page if you have one to see if everything is working properly. Even better–look over a friend's shoulder while they try to navigate through your website. You'll discover the points at which they get lost or have questions.
If you have any trouble with these tasks on your site – imagine what your customers are experiencing. Your site should be effortless!
Check your site on multiple devices and in different browsers
And the last thing you can do is use different devices – cell phone, tablet, laptop, and computer – while using your website.
This goes for using different browsers. Check your website in a Firefox and Safari browser to see if your pages look good. Sometimes the formatting is misaligned, and design elements may be missing on other browsers.
By paying attention to these basic aspects of your website's functionality, you can ensure it's inviting and easy to navigate.
If you find that the "fixes" are just too time consuming for you to handle on your own, use a website management service to take it off your plate. Emily Journey & Associates offers customizable website maintenance services. Contact our friendly office to learn more.
Office: (844) 972-6224 Contact Us
Website maintenance tip #4: Check Google Search Console
It's a good idea to become familiar with using Google Search Console. Also, know that Google likes to change the names of their tools frequently, so you may have to search in Google to find the new name.
As I mentioned above, Google Search Console is a fantastic tool if you're looking to measure the impact of your SEO efforts. You can see what pages on your site are receiving the most organic traffic, what search terms are bringing users to those pages, how many daily clicks you are receiving from a Google results page, and much more.
Additionally, Google Search Console reports on your website performance and any issues you need to fix. For example, you might notice Google stopped crawling your website or another technical issue that needs to be resolved fast.
Check Google Search Console weekly to spot any trouble that may have occurred.
Website maintenance tip #5: Create sticky content
What do I mean by "sticky content?"
It's just a fancy way to say – create engaging blog post articles that inform, educate and help your visitors out with taking the next step.
Yes, this sounds like a lot, but it doesn't have to be. Of all the website maintenance tips I've provided, content creation is the most lasting. I want you to focus on these 3 fast and efficient ways to create sticky content:
Use a writing tool to rewrite your content to make it more conversational or professional.
Create an outline with subtopics to make it easy for a reader to follow your thoughts.
Include original content if possible.
Artificial Intelligence (AI) is making a splash in the content creator world. There are AI writing assistant tools to help you with your editorial calendar, finding keywords, and even generating images.
But, let's not get ahead of ourselves. We want to streamline your content creation process so that when you publish your blog article, it resonates with your audience.
Use a writing tool
Using an AI tool like Wordtune or Frase to rephrase your sentences is a fast way to add some conversational elements to your content (or to make it sound more professional).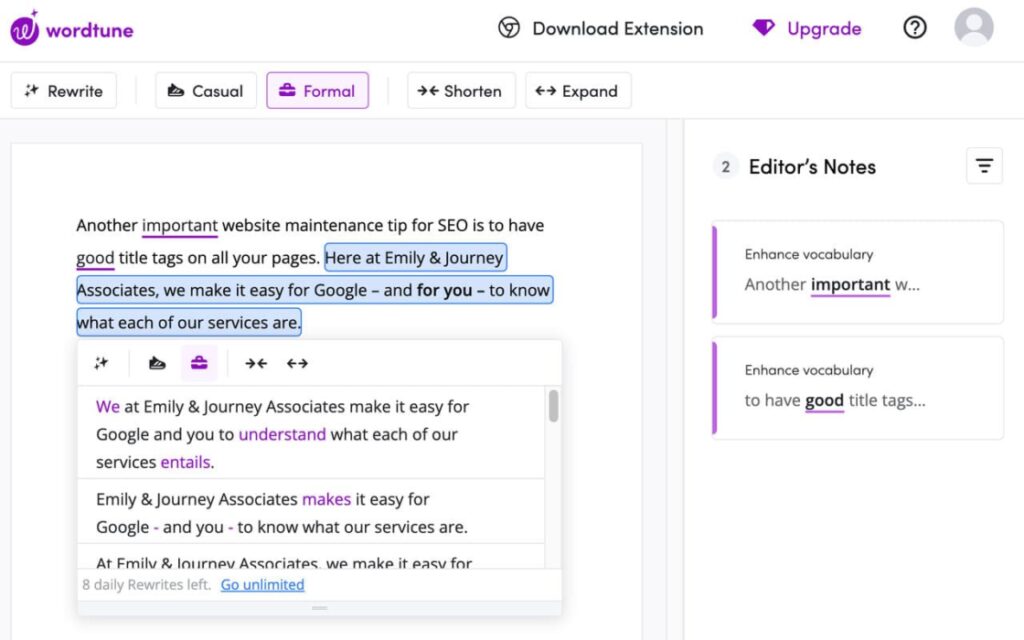 Or, if you're anything like me, it's easier to work from something versus a blank screen. I find AI writers helpful when I need a place to start or something to react to. I apply my voice and creativity to the software's general ideas.
I may end up changing 90% of what was written, but I always cut my time in half and end up with something I really like.
Create an outline
Another way to improve your content is to create outlines for each article.
If you hire out your content, create a content brief giving your copywriter necessary information to write the article. You can include the following:
Intended audience
Keyword/s
Call-to-action
Competitor articles
Subtopics to include
Pertinent brand guidelines to follow
When you take time to create outlines, you speed up the content creation process, which gives you time to create an entire month's worth of content.
Create original content
And to level up your content, why not add original studies your business has done?
This positions you as a thought leader in your industry, collaborate with others, and score backlinks to improve your domain authority.
Plus, it's easy to do. Head to LinkedIn, Facebook, YouTube, or Twitter to create a poll. After a week or so, relay your data for an upcoming article or to note on a service page.
You can use HARO (Help a Reporter Out) if you want more credible quotes. Have your copywriter sign up as a journalist and create a pitch to send out to thousands of business owners.
From there, you'll get detailed quotes you can include in your article to make it more valuable.
Get help with website maintenance
While the website maintenance tips I shared are quick, they are only easy if you already know how to use them. If you are unsure how to do each task correctly, you don't have to do this alone. Contact my office at Emily Journey & Associates, and we will help you find the right maintenance plan for you.
Contact our friendly office to learn more.