Has this happened to you? You write a great blog post. You get great comments from a number of readers. Then the spammer breezes through your comments section and, all of the sudden, you're selling hair tonic or recruiting for some bogus job.
"Great tips! Especially number five. I never knew that and it will save me so much time!"
"I'm sharing this post with my whole team – I think it will really help with our efficiency."
"Make $500 a day working just 2 hours a day from home. Start today!"
How do you get rid of these comments?
Delete all comments in WordPress
Delete comments in WordPress to improve your SEO and user experience. Luckily, deleting comments on your WordPress dashboard is pretty easy and straightforward. I'll show you how to delete all comments in WordPress.
Finding it hard to delete comments in WordPress and do all the other tasks required to manage your website? Contact our friendly office at (844) 972-6224 or send us a message through our WordPress training inquiry form.
Why disable WordPress comments?
An important element of WordPress website maintenance is to keep an eye on the comments you're receiving. WordPress sites are particularly susceptible to spam, and if you have a large number of spam comments, this could be unattractive to visitors. Spam comments can also hurt your SEO ranking.
Keep in mind that deleted comments only stay in your trash folder for 30 days. Once they're gone, they'll be gone for good. You may want to back up your WordPress site before touching anything (this is something you should be doing on a regular basis, anyway).
How to delete comments in WordPress
Follow this step-by-step guide to delete WordPress comments.
Go to Comments
Select either All, Pending or Approved based on which comments you want to delete. You'll see that I've already deleted all comments on this site.
Click Bulk Edit
Select all of the comments on the page OR pick and choose the ones you'd like to delete
Click Trash and the selected comments will be moved to the trash folder
Disable all comments in WordPress on future posts
Great! So now you've cleaned up all the unwanted comments on your posts and you'd like to NOT have to do that again in the future.
The surest way to avoid having to deal with spammy or negative comments is to simply disable the comments function in your WordPress settings. This is an ideal option if you decide that monitoring and deleting comments is just too time consuming.
To disable all comments in WordPress on any FUTURE POSTS or pages you create, follow these steps (and see the screenshot below):
Go to your WordPress Dashboard

Go to Settings
Go to Discussion
Uncheck the three boxes in the Default Post Settings section
Save your changes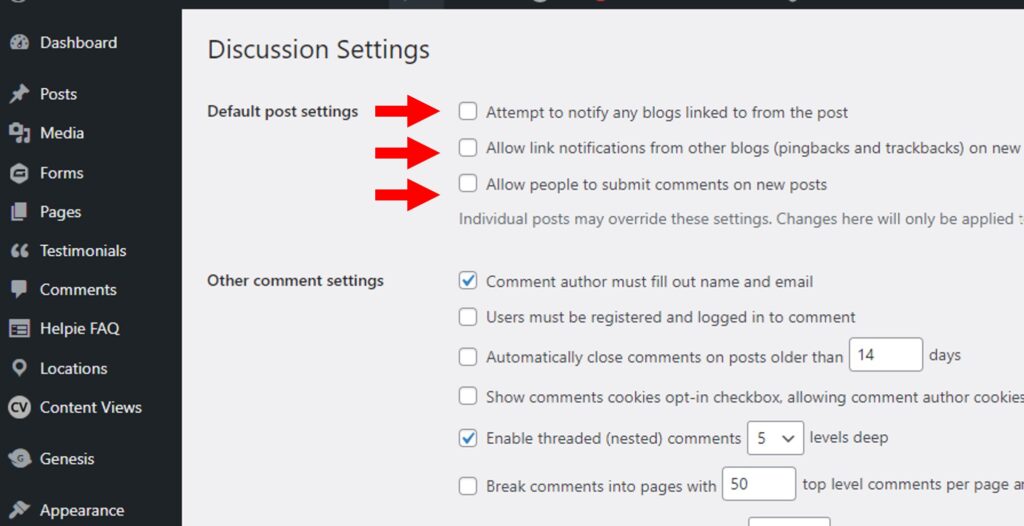 Now, commenting will be unavailable going forward as you publish new pages or posts.
Following these steps DOES NOT, however, retroactively disable comments on existing pages. Keep reading to learn how to tackle that.
Disable comments on existing WordPress posts
You spent time cleaning up the comments on your EXISTING POSTS and want to keep it that way. Follow these steps to disable comments on you existing WordPress posts:
Go to Posts
Go to All Posts
Find the Bulk actions button

Choose Edit in the Bulk actions dropdown menu
Select all the posts on the page by clicking the top checkbox
Click the Apply button

In the Bulk Edit menu, go to Comments
Choose Do not allow in the dropdown menu
Click Update
Going through these steps ensures that commenting is no longer enabled for the existing posts or pages on your WordPress website.
Are you in search of a teacher in WordPress? We can help you master what it takes to perfect your skills in this content management system.
Learn WordPress faster with a real person and get answers to your specific questions. We're a team of four WordPress teachers to help with your unique theme, plugins, and goals. Watch our video to learn about our customized WordPress training.
Contact us for one-on-one WordPress Tutoring options »
Delete comments in WordPress FAQs
How do I delete all pending comments in WordPress?
You can delete all pending comments in WordPress by navigating to your dashboard and finding your "Comments" page. Click "Bulk Edit;" select all pending comments; and move them to trash.
How do I get rid of comments on my WordPress dashboard?
Get rid of WordPress comments by opening your dashboard and clicking "Comments" on the left sidebar. From there, you can view all comments and choose which ones you'd like to delete.
How do I comment on WordPress?
If you see a WordPress post you'd like to comment on, scroll to the bottom of the post and click "Leave A Comment." Type what you'd like to say and click "Post" (if you aren't already logged into WordPress, you may need to log in at this point). Your new comment will show up either immediately, or after approval.
Delete WordPress comments and keep up with website maintenance
Deleting and managing comments is an important part of WordPress website maintenance. But it's just one of the jobs that needs to be done on a regular basis. Maintaining your website improves security, performance and user experience.
With WordPress training, you'll have the confidence to keep up with and improve website maintenance, so you don't have to rely on someone else to do the work for you. With Emily Journey & Associates, you learn as you go and can ask questions along the way. You'll obtain the necessary skills to create, manage, and enhance your company website on your own.
Learn about our unique method of WordPress Training »
Office: (844) 972-6224 Contact Us