DESCRIPTION
Join WordPress expert Emily Journey for WordPress Seminar in Columbus, Ohio. Get the training and skills you need to manage and update your company website with confidence. This full day WordPress course is designed for administrative staff, business owners, marketing managers, and IT departments. Want to reduce or eliminate your reliance on a third party website consulting agency? With WordPress training, you can do it!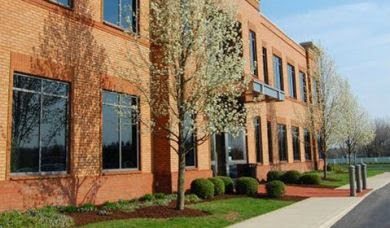 DATE AND TIME
Thu, March 22, 2018
8:30 AM – 4:30 PM EDT
PRICE
$497.00
LOCATION
WP Artisans
8000 Walton Parkway
2nd Floor Workshop Room
New Albany, OH 43054
View Map
REFUND POLICY
Refunds up to 1 day before event
This is a full day WordPress Seminar
Our Schedule
8:00 to 8:30 – Check-in, Networking, Beverages
8:30 to 12:00 – WordPress Training
12:00 to 12:30 – Lunch Provided
12:30 to 4:30 – WordPress Training
"The knowledge that I've acquired from working with Emily has paid for itself many times over. Emily is a fantastic teacher and has given me the confidence and tools to build and manage my site. This has saved me an enormous amount of time and money while also giving me the freedom to take my ideas and bring them to life on my site the right way. I recommend anyone looking to learn the how, what, and why's of WordPress to hire Emily."
John Brooks, MS, CISSN, Nutrition361.com
Use Promo Code: GET60 to get $60 off of your registration.
Look for the "Enter promo code" link.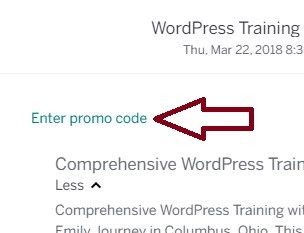 WordPress Seminar Topics
Below is a general list of topics covered during the seminar. The actual training experience may be different or more advanced based upon the collective skill level of the group.
For a completely custom training experience, please contact us.
Website Security
Learn the steps you need to protect your online assets. We will cover security at the levels of your domain, hosting, and WordPress dashboard.
WordPress Theme Selection
Not all themes are made equal. Learn how to make good choices in regard to WordPress themes in order to save yourself time and headaches down the road.
WordPress Components
It's important to communicate effectively with web developers, IT departments, and colleagues when discussing your website. Get an overview of the basic WordPress structure common to every WordPress website. This foundation is also important for communicating effectively throughout the training process.
General Website Navigation
How to structure your website in a user friendly way—resulting in better engagement.
WordPress Settings
An important but often overlooked foundation to every WordPress website. WordPress settings are global and effect your website as a whole—often in dramatic ways.
Adding Pages and Posts
Learn how pages and posts are similar and different. When to create a post instead of a page. Time will be spent practicing creating posts and pages.
Media Management
Add images, graphics, galleries, and video to posts and pages. How to make a clickable button. Adding special touches with simple image editing.
Integrating a Blog
Create a category based blog structure and control exactly what blog content is visible to specific types of website visitors. Learn why a blog is so important to modern websites and why more businesses are integrating blogs to build a following, increase credibility, and attract online visitors.
Blog Strategy and Web Writing
Get the truth about how to use keywords, titles, and web writing to optimize your websites for search engines (SEO).
SEO Targeting
Clarify your SEO keyword phrases based upon targeted geographic locations, products, and services.
WordPress Shortcode
We will learn about this simple method of inserting content into your websites. We will review the existing shortcode usage on your company website and practice creating and modifying content with shortcode.
WordPress Plugins
It is important to make good decisions about plugins. Learn how to make good decisions about plugins. Participants will practice searching for plugins and installing plugins. Review the most powerful and popular plugins. We will also review any plugins currently installed on your company website.
Managing Your Main Menu/Main Navigation
This important part of every website can easily get out of hand and be confusing. We will look closely at your existing website menus and learn how to modify them to your liking.
WordPress Widget Areas
How to make widgets appear and disappear. How to manage and customize their content.
Theme Documentation
We will review a theme of your choice and discuss special characteristics of this specific theme. This may be the theme your company is currently using.
eCommerce and Event Registration
How to incorporate event calendars/course schedules as well as automate online registration, payment, ticketing, and receipts.
---
Customized WordPress Training Options
For a completely custom training experience your yourself or your staff, please review the corporate and individual training options at https://emilyjourney.com.
Or, contact us.